RE: Bitcoin / Multi Crypto Coin Ticker with 24 candlesticks chart
Hello,
Here you go! I coded some lines. Try this from there: https://github.com/frittna/Crypto_Coin_Ticker
just download the M5Burner zip packet, extract it to a path with no spaces in name (causes errors!) run M5burner.exe and select COM + BAUD + Crypto_Coin_Ticker_Sensor_Cel.ino or the Fah version for Fahrenheit and give it a try.
BTW: it is a SHT30 Senor built in my base, not a DHT12 although it is written in the description. The temperature is pretty high since the sensor is getting heat from the device itself i guess, maybe a problem of many small devices with temp sensors built in.
*** For regular users without the vertical base i recommend to use the normal version because i had to make the info panel a bit larger and loose candle chart hight. **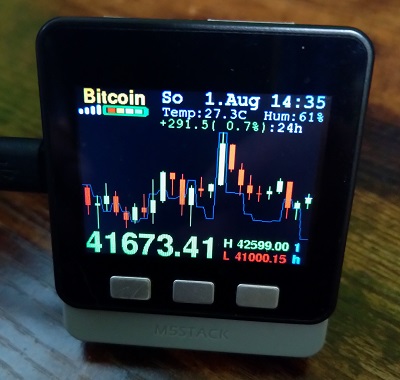 posted in PROJECTS